Well after continuing to try a few different things over the last couple of outings with a little bit of success the previous outing, again I tried several different things.
First off, last week, I tried a high back-strap and was pleasantly surprised at how good it was – it eliminated one of the issues I was having.  This strap is literally a bit of 30mm webbing, some rubber tubing slipped over it and a quick release clip that goes around you and slips over the cockpit coming at the front – you have something to lean back into.  Whilst it provided the required support, it was only partially successful in so much as the cockpit coming is quite small, and it kept slipping off.  If I was to use this as a long-term solution it would require a pair of saddles be mounted on the deck to hold it in position.  This would then become a little unruly in the event of a capsize – it would potentially be something that tied me to the boat, so hence the need to look again.
This week, I decided to try my original 40mm thick closed cell foam that I got for the bottom of the boat that proved to be way too much and too high for such a narrow boat and use it in a different way.  I actually put this in front of my original back band and thus spread out the vertical support behind me.
To my surprise, I found that it seemed to work quite well.  It like last week addressed one of the issues I was having, so a step in the right direction.
With this in place, I needed to keep making some minor positional adjustments as well.
Again, after about 30 minutes I was getting a numb leg, again, looked at my seat to see what I could change.  This time, I removed some of my padding.  I took out my bean bag from between the foam and the lambswool.  The bean bag was the saviour on my other boat – it was what finally got me into the comfort zone.  It was interesting to note that this time, it proved to be the hindrance.
So, tried again and found that things were improving to the point where I finally feel comfortable.  There is 1 last things that I will do and that is dto double-up on my sheepskins next week, and to also add a very small foam under my heels.  So, yes, starting to get down to the 1% items to get me as comfortable as possible for as long as possible in the boat!
The other un-expected result of the tiny changes to the seating were that I was also able to play with the paddle length – I was able to shorten it by a massive 3cm.  This moved my paddling from my arms back into the core.  Now I have to re-mark my paddle with my hand positions!
Conditions were what I would call pretty good, but not perfect with around a 20km/h wind – and coming from a 45deg to me no matter where I was paddling.  Always good to be in some conditions that are a little bit difficult to keep you on your toes!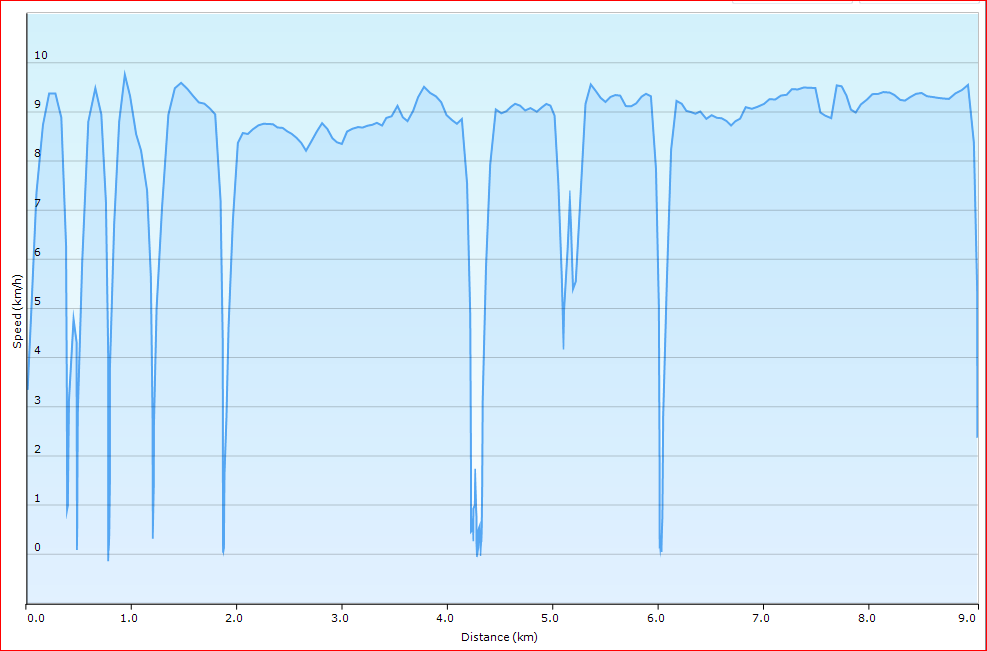 So, a plot from the GPS is in order.  Yes, a lot of stop/start on here – did a lot of changes to the seat and foot positions in my attempt to get everything just right.
The good news was that when I was moving, there was only a little bit where I was not exceeding the 9km/h average – which I have not seen since the first week of being in this boat, so some real progress is being made.
So, at the moment, I have less than 5 weeks to go, and til have a few more things to sort out before I decide if I think I can tackle the 111km in this boat or pike out and go back to old faithful!
I grabbed a couple of quick snaps with my phone camera so I could see how it looked before stripping the non-permanent parts out when packing up.  Quality of the phots is not the best, but at least they show the main things.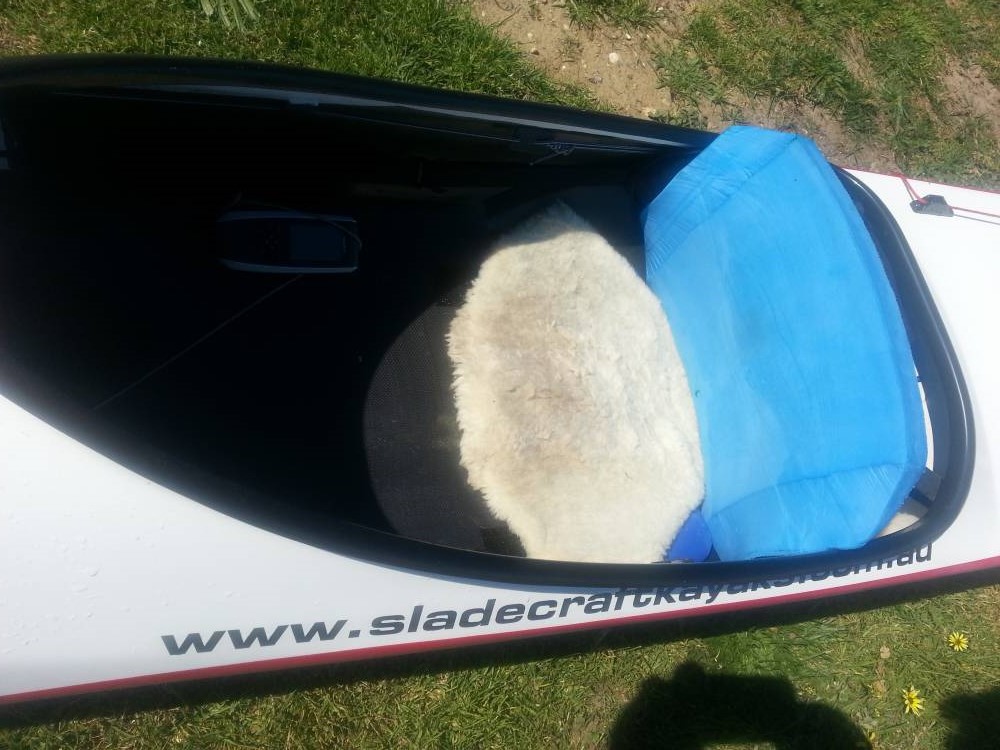 Above – the lambswool seat and foam back rest.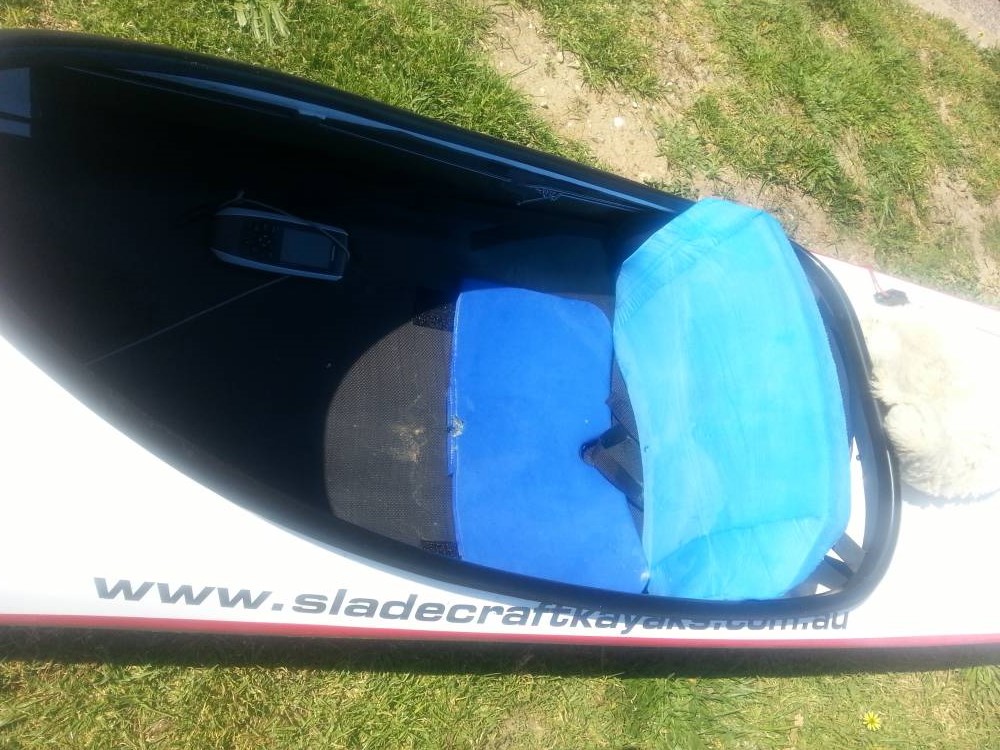 The foam base, with the lambswool removed.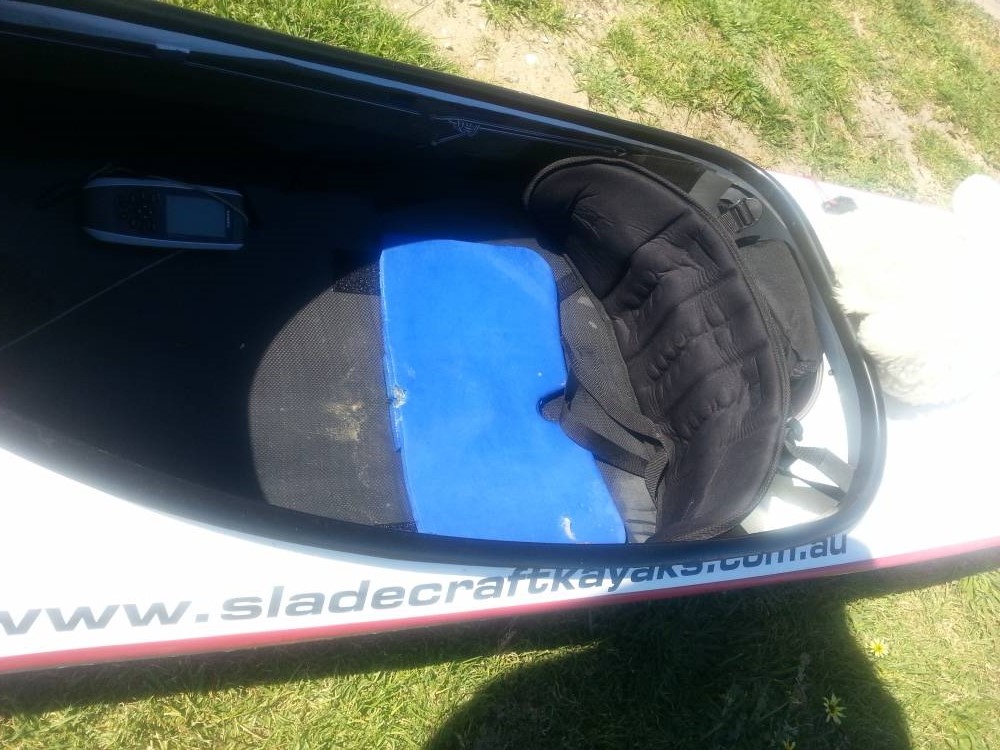 The back rest without the foam, and the foam base.
It was really good to actually get everything so it was comfortable, and I'll continue adding or subtracting components until I get it where I need to be.
Now I am where I am, I will look at getting some night paddles in – and see how I go.
It just goes to show, don't give up or even dismiss taking a radically different approach to what you have been doing and even what was working for me in another boat.